Spaghetti With Tuna, Lemon And Creamy Stracciatella Cheese View Products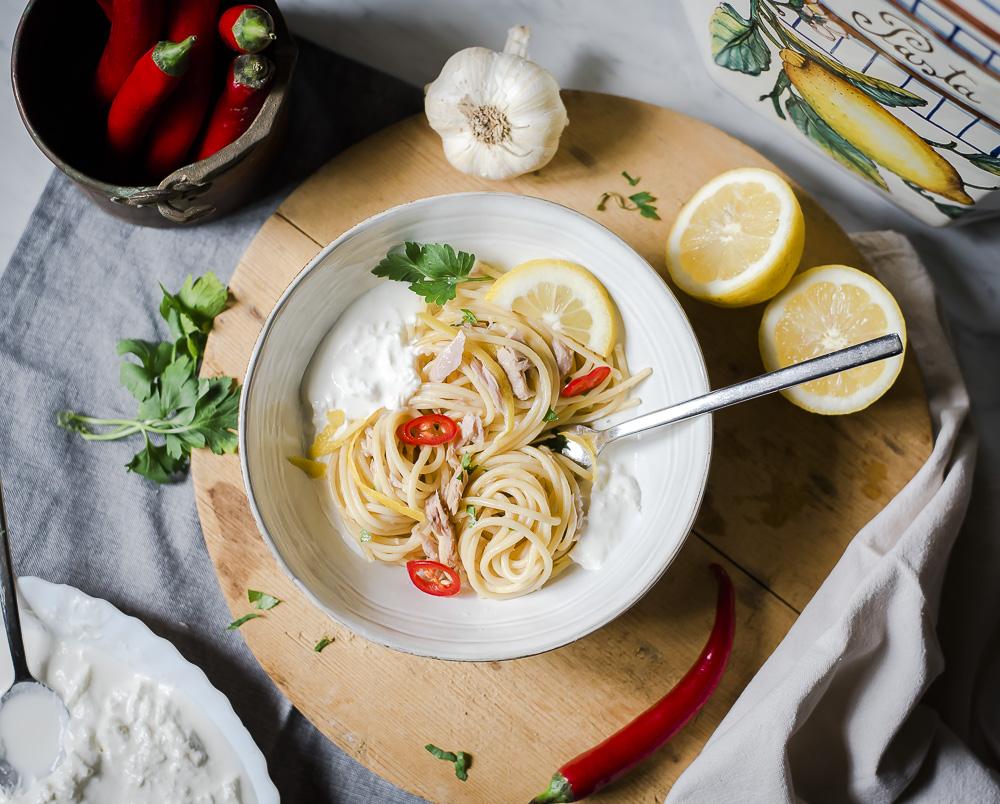 Credits: veryeatalian
View Products
Made with
Stracciatella is made from the mixture of mozzarella shreds and cream
Ingredients
320 g spaghetti.
extra-virgin olive oil.
1 garlic clove.
1 organic lemon juiced and zested.
crushed red pepper flakes OR a fresh red hot chili pepper (seeded and sliced).
300g good-quality tuna in extra-virgin olive oil drained.
1 Tbsp fresh parsley chopped.
stracciatella cheese in desired amount, at room temperature.
Directions
Step 1

Bring a pot of salted water to a boil. Add spaghetti and cook until al dente. While pasta is cooking, prepare the "sauce".

Step 2

In a wide sauté pan, over medium heat, add a drizzle of olive oil and a clove of garlic. Let it become fragrant and then add chili pepper sliced (or red pepper flakes), lemon zest and 1/4 cup of cooking water from the pasta pot. Cook briefly and let the liquid evaporate. Then add the tuna and the lemon juice, and cook for just a couple of minutes. Remove from the heat and let the flavors mingle until the pasta is ready.

Step 3

Drain the pasta and transfer to the pan. Turn on the heat, toss the pasta in the tuna/lemon sauce, until coated, for a minute or two. Remove the clove of garlic.

Step 4

Serve in bowls along with 1 or 2 tablespoons of stracciatella. Sprinkle with parsley. Before eating, make sure you stir in the stracciatella with your fork so that you obtain a nice creamy sauce.

Credits: veryeatalian
Other recipes you might enjoy